---
Marine & Off-Shore Operation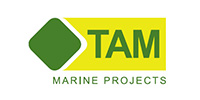 ---
Taavura engage in a wide range of Marine and Off-Shore activities include:
Project for protecting the beachfront cliffs at the Ashkelon beach.
Rerouting rivers, marine excavations and placing geotubes.
Marine excavation work at the Dead Sea evaporation pools.
Marine excavations for deepening the seabed at ports, marinas and more.
Marine quarry work and underwater explosives.
Special projects at beach fronts and water reservoirs.