---
Trucks and Transport Museum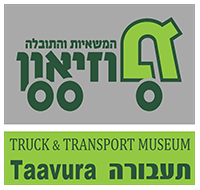 Trucks and Transport Museum created and operated by the Taavura Group in cooperation with Ramla Municipality in commemoration of Israeli Land Haulage.
This cornmerative park museum is part of the vision of the Taavura management team, whom for many years took part in the running and management of haulage in the transportation branch in Israel.
Taavura is active in the various areas of the land transportation branch since the creation of the State of Israel, including heavy truck haulage, mobile cranes, land excavation and overall logistics.
The Museum is dedicated soles to Avraham "Bondi" Livnat, the founder, owner and first General Manager of Taavura; A groundbreaker, warrior, visionary and dreamer of a prosperous State of Israel.
The museum is open to everyone and is a pride of the residents of Ramle, the surrounding towns and the thousands of past people active in the transportation field.
---
Visitor Information
The museum, locate near Taavura home base in Ramla (2 Hahazon St).
Free entry, pre-registration not required​. 
Opening Hours:
Sunday-Saturday: 8 am - 4 pm
For more details please call +972-3-7563020