---
IT ALL BEGAN WITH A SINGLE TRUCK
Taavura Holdings Ltd. is a privately owned holding company registered in Israel that was founded by Avraham (Bondi) Livnat more than 75 years ago, along with the establishment of the state of Israel.
In addition to the holding in Taavura, the Livnat family holds a large portfolio of market leading companies in broadly diversified industries: Data center, Contact center, Logistics, Real estate; Oil and Gas; fashion retail chains; Agricultural products export and more.
---
---
1955 was the year when Taavura was registered as a limited company. That year, Bondi acquired his first two low-bed, heavy haulage trailers.
In 1957 Bondi's brother, Yitzhak, left the army, joined the company and became a shareholder in Taavura. He started his way from the bottom, learned the business on the steering wheel, experiencing problems, which assisted him in the future running of the company.
During his years in Taavura (over a quarter of a century) Yitzhak was running the company together with Bondi, covering more the administrative and business developments aspects and helping the company grow to its present leading position.
---
---
By 1960, Taavura's new front end loader and heavy dump trucks were disposing of eight tons of overburden for every ton of copper extracted from the Timna Mines.
By 1962, Bondi purchased Cement Containers Ltd. and entered into the field of bulk transportation. The company purchased the first two of its 50 car carriers in 1968 and in 1983, it launched Talmarine, a subsidiary for marine operations.
---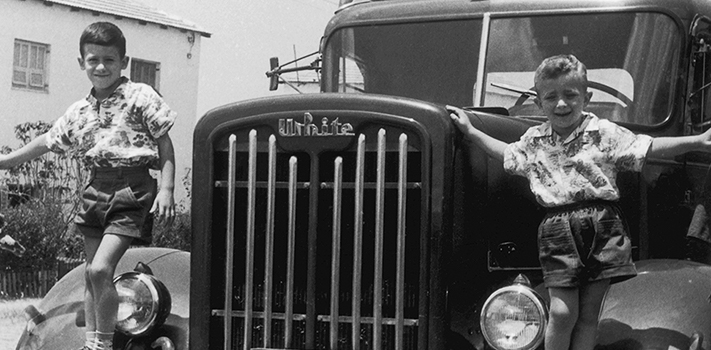 ---
Taavura's fleet includes thousands of trucks and trailers, a fleet of dozens of off-the-road dump trucks and massive excavators, large fleet of cranes and multi axles rigging trailers, marine and off-shore equipment and more.
In the years that followed, Taavura established many more subsidiaries engaged primarily in imports and the marketing of trucks and heavy equipment (Tashtit Division and Universal Trucks Israel Ltd.), specialized transportation fields, logistics (Maman Air Cargo), energy (Shmerling-Syncro) and other related sectors.
In 2003, Taavura began to develop car import activities in the Balkan countries. This activity has expanded over the years and today includes 13 countries and 9 leading car brands in Central Europe.
In 2020, Taavura established a Group Innovation Center (Quantum Hub), operating as a meeting point between Taavura and its subsidiaries and the technology ecosystem.
Livnat family holds 60% of Taavura, along with Leumi Partners Ltd. and Phoenix group which hold 20% of Taavura each. The owners are collaborating to proceed the legacy of Taavura's success, in its own special way.
Taavura's accomplishments could never have been achieved without the outstanding relationship that the company enjoys with its employees.
---