---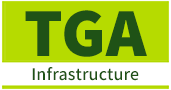 Investment Activities in the Water and Sewage Field
Taavura Holdings is active in the field of water and sewage infrastructure investment. Activities are carried out through T.G.A. Infrastructure L.P., today, wholly-owned by Taavura.
Treatment plant in the Western Galilee
T.G.A. won the BOT Project for the design, construction, financing and operation of the regional wastewater treatment plant in the Western Galilee. The project serves Nahariya and Matte Asher and other municipalities and private bodies in the region. The operational phase began in January 2005 and will last until 2036.
---